Donate
We welcome your interest in getting involved with Kingman. Please consider donating via this website by clicking on the "Donate" link.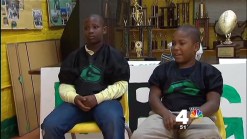 Exciting News:  The Boys 8 & Under football team  has won the AFC Championship of Greater Washington, and earned a chance to play for the AAU tackle football national championship in Orlando, Florida, as reported by Jim Vance of WRC TV Channel 4:
Depending on the proposed amount of your donation, we would be pleased to write a more detailed proposal to outline how it would be invested in Kingman's activities. All the appropriate certifications including our 501C3 nonprofit status and financial audits are available. We invite you to schedule a visit with us to spend an afternoon to observe first hand what we do. We pride ourselves on an efficient and effective program with a small full time staff and committed volunteers. Donors can be assured that their funds will go directly to benefit the children we serve and not be diluted by high operating costs and overhead. Combined Federal Campaign and the United Way
For those of you who work for the Federal Government, designating Kingman when you contribute to the Combined Federal Campaign is an easy effective way to help us. Our CFC number is 82862. Our United Way number is 8135. The United Way logo on our homepage links directly to the United Way website.
Planned Giving?
A growing number of our friends are providing on-going support through planned giving. Planned giving is a process of combining your compassion and generosity with financial, tax, and estate-planning goals to get maximize benefit for you and Kingman.
Planned gifts often come from assets rather than income. They can be either outright or deferred.
Some types of planned gifts include:
•    Wills or Bequests
•    Charitable Gift Annuities
•    Charitable Remainder Trusts
•    Qualified (tax-deferred) Plans
•    Real estate
•    Life insurance
•    Appreciated Stocks or Mutual Funds
*It is recommended that you consult with your tax or legal advisor prior to making a planned gift.
How You Can Make a Planned Gift
A trusted legal or financial advisor can help you develop a plan for making charitable gifts that complement your current investment and estate plans.
They can help you evaluate your specific situation and determine:
•    The best type of gift for you
•    The appropriate gift amount
•    The tax implications of your gift
•    How to best structure the gift to benefit both you and the Food Bank
Your professional advisor can put together all of the necessary financial and tax-related paperwork to set up your planned gift.
Our planned giving staff will be happy to work with you and your advisors, with no obligation, to arrange or complete the best gift arrangements for your specific situation.
Benefits of Planned Giving
Planned giving is a process designed to work with tax laws and financial planning strategies. In many ways the ultimate benefit of any planned gift is the good it does providing a legacy of caring.
Creating a legacy is wonderful, but there are also a number of tangible benefits that come from making planned gifts. Here are a few of the advantages that planned gifts can bring. Our staff will be glad to help you explore which of these benefits, or others, might work for you.
Benefits from making a planned gift can include:
•    A charitable income tax deduction (with carry-over provisions)
•    Avoidance or reduction of capital gains taxes
•    Lifetime income (including some tax-free) from your gift
•    Estate tax reduction
•    Leaving a gift to both your heirs and the Kingman Boys and Girls Club.
*It is recommended that you consult with your tax or legal advisor prior to making a planned gift.
Information Request Form
OUR PRIVACY COMMITMENT TO YOU
There is never an obligation for requesting planned giving information or having a member of our staff assist you in any way.
All of your information is maintained in complete confidence. We never release, share, sell or rent names, addresses, etc.
How can we assist you?
Please contact Kevin Peters at 301-770-5234 or email him at kpeters@xmlfg.com your inquiries.